Shopping Cart
Your Cart is Empty
There was an error with PayPal
Click here to try again
Thank you for your business!
You should be receiving an order confirmation from Paypal shortly.
Exit Shopping Cart
MENA Development Partners LLC
Developing successful business relationships in the Middle East.
**NEW - Collaborative research project on fracking.**
Doing Business in the Middle East
With such a lucrative environment in the Middle East, it is a great time to go for it if you and your company feel you have something to offer in the rapidly expanding Gulf economic region. Be ambitious, think big and be ready for a roller coaster ride! These are a few things I have learned from my own experience as I have started doing business in the Middle East.

In general, the "ease of doing business'", even though it may be very publicly boasted about, it is by no means like doing business in other parts of the world, particularly in the US and Western Europe. Recent government reforms have tried to greatly reduced much of the bureaucratic red tape, however doing business in Gulf nations is all about having a solid business plan, finding those partners who really are influential (and many make claims to be such, so be very cautious when you chose any and all partners) and I cannot say this loud enough... find it in yourself to have the patience of a saint! 
As I am experiencing first-hand is that closing business deals in the Middle East, as easy as sounds in our minds. is a challenge. As a newcomer in the region, I rely heavily on my experience and guidance of my trusted partners, just as they do mine when it comes to working with Western companies.
There are several things I have found very helpful as I have started doing business in the Middle East. It was an unfamiliar environment for me from not only a business aspect but also a cultural, ethical and religious. On that note, if you think that religion doesn't play a part of the business environment, think again. Religion is woven in to every single portion of every single transaction and you must be very respectful of this. From the times of day for prayer, to contracts to discussions, religion is omnipresent. LEARN ABOUT IT, it will serve you well.
Learn whatever you can about companies in the country you are trying to do work in. Because some of the large companies are actually owned by by the country (ie, Saudi Aramco), doing business with a nationalized company has very different expectations and guidelines. Be respectful of the companies' heritage and relationships. These are usually very, very big companies. (How does $10 trillion compare to even the biggest Western companies... ExxonMobil is under $500 billion. BIG DIFFERENCE!!)
At the same time as you are learning about the companies in the Middle East, realize that they probably have no clue who you are or your company. They know well recognized global brands like Coca-Cola, so unless you represent one of those, there is a very good chance they have no idea what you do. Show them, they like to see what you offer. They like to see impressive pictures, impressive numbers and show them that you can really do something amazing for them and you bring something to the table. Another note from my personal experience - DON'T RELY ON WEBSITES OR TECHNOLOGY BASED PRESENTATIONS TO TELL YOUR STORY. To simply point them to a website and or an on-line shareholder report will do nothing to help your cause. Not that those websites aren't important, they will be checking them out, so make sure they are very impressive, but don't present them as your only source of company collateral.
Last but not least the biggest thing I have learned from my experience in starting business dealings in the Middle East, find the best attorney who is familiar with Middle East you possibly afford. It will end-up saving you a lot of money and a lot of turmoil down the road. My Chief Legal Consultant has become my right and often left hand. You cannot even imagine the trouble I would have gotten myself into almost every single day if it wasn't for her. There are many, many laws and regulations that most people know nothing about when it comes to doing business in the Middle East. These laws have serious implications and go against some of the business expectations of the Middle Eastern companies. So inform yourself and don't try to do it alone.
For people who are doing business in the Middle East for the first time are usually unfamiliar with the business, cultural, religion and legal environment. These are just a few of the things I have learned from my experience. There are many more so research, research, research. The people you surround yourself with will help you make it or break it. From your local partners on the ground to the your legal team, chose them wisely! It is an exciting time to be part of such ambitious opportunities so do it right and enjoy the ride.

So tomorrow (Saturday, 18 May 2013) is the day that Saudi officials will start the expat exit process for those who want to leave the Kingdom. This entire process, from announcement to implementing has been worrisome for both the expats themselves and the employers they are working for. The end of the three-month grace period is 3 July, so there is still a bit of time for some to figure out what road they will take. Most of the affected expats come from high poverty countries like India, Pakistan, the Philippines, Ethiopia and Yemen.
If I understand this correctly, under Saudi law, iqama requires all foreign residents to sponsord by either a Saudi company or an individual. After the initial announcement, some workers have opt to not go to work to dodge spot inspections.
The Saudi government has decided to enforce stricter quotas as historically the rule about expats only working for their sponsor been predominately disregarded. One of the main reasons this is now being enforced is to close a loophole that permitted companies to get around sharing how many Saudi nationals they employ. (If I have this wrong, please feel free to comment below.)
.
The aim is to tackle the unemployment issue amongst Saudi nationals by getting more Saudis into private sector jobs and to help preserve Saudi workers However, what is not being addressed by the changes (and again, if I am wrong, please feel free to comment) is that Saudis demand higher wages than expats from developing nations and the local labor laws make it very difficult to fire the Saudi nationals. As I mentioned in yesterday's post, many Saudi nationals are not qualified for the jobs and feel that the positions available are "below them".
The Kingdom has a significant "black market" for cheap expat labor. What has happened to fuel this demand, many expats are registered with one company, as a "cover", but then work for another. Many of these "black market" expats fear that by coming forward and requesting to change sponsors will not be granted. As a double whammy, the companies they work for do not want to officially hire more expat workers.
As of today, The Labor Ministry denies reports that it is enforcing immediate deportations, but people who lose their official residency status must leave the Kingdom. However, across Saudi Arabia, the affected workers have been telling stories of spot inspections and sudden deportations. The regulations were announced last year, the government announced in March that it would start enforcing the changes with spot inspections.
With the deadline of July 3 approaching, these Illegal workers here are trying to make as much money as possible before they either report and change their status or go home. They are dodging officials because they know if they get caught, they are sent home.
My concern, as someone investing in the success of non-Saudi companies coming into the Kingdom for these massive construction projects is that in order for them to be done on-time and on-budget, these workers are needed. Some believe this is a passing trend and that the situation will work itself out
It will be interesting to see how it plays-out and how much actually changes.
A lot has been in the news lately about the changes happening in the Kingdom as it relates to expat and migrant workers. Some of it positive news, some of it not so positive. Please note that anything I write here is predominately a reflection of different ideas out there in the media. If I do add anything about my personal opinion, I will say so. I am not an expert on either topic, but just want to look at what is happening on both sides of the coin!

The Saudi Ministry of Labor has announced that it will achieve nationalization of 3 million jobs by 2025. One of the main reasons for them making this announcement and placing so much attention on this topic is that they are trying to make it easier for non-government companies to hire more Saudi nationals.

According to an article on 2 April 2013 in the Saudi Gazette, "Unemployment in Saudi Arabia, according to the latest official figures, was 5.5 percent of the total Saudi labor force (15 years and older) in 2012. This means there are at least 300,000 unemployed people in the Kingdom." This unemployment number is much higher amongst the younger citizens. I can tell you one thing that most countries realize is that a young population with unemployed young men often leads to serious problems for the society as a whole. (My opinion.)

One of the contributions to the unemployment issue is that a.) attitude of younger workers for their employers (this is not just a Saudi phenomena). b.) they have grown-up thinking that blue collar or manual labor jobs "belonged to someone else" (ie, migrant workers from predominantly developing nations) and c.) they lack sufficient education and technical skills to do the "more acceptable" white collar jobs.
A recent announcement about the goal of getting rid of unemployment through programs like Hafiz & Nitaqat. Nitaqat as I understand it is the Kingdom's program for measuring nationalization. Hafiz intended to increase job opportunities for youths with intensive training programs in professions required in the job market. The program pays a monthly allowance of SR 2,000 to unemployed Saudi men and women. However, what I don't believe was foreseen is that many of the unemployed were still not taking new jobs. (This isn't uncommon, look at all the US citizens living off welfare even though they are fully capable of working!)
"Now the Saudi Ministry has added a monitoring program or both Saudi and expat workers. This is to make sure that employees are getting what they are supposed to and the employer is not meeting their employment obligations.

The ministry is also taking steps to evaluate the capabilities of graduates of educational institutions and the suitability of their specializations to cater to the needs of the job market. The ministry will benefit from the information provided by the Nitaqat program to prepare a sufficient number of graduates to replace expatriates in all areas of job specializations.
According to an earlier report, Nitaqat will be instrumental in increasing the percentage of Saudi workers in the private sector from 10 to 50 percent over the next three years." from same article on 2 April 2013 in the Saudi Gazette,
Unemployment is not unique to Saudi, nor are they they only country trying to find solutions to the problem. There is no one easy way to figure this out. We have an entire generation of young people entering into the job market with much different expectations of what work will mean to them. Saudi Arabia, as do all countries, need to figure out what it is that is important to this generation, what is it that makes them different then that of their parents or grandparents. Only then can solutions be evaluated and tailored for the new generation. (Again, just my own thoughts!)

More tomorrow on the controversial expat changes... Stay tuned!

I read the following announcement today & felt it was important enough to share.

"Riyadh: Saudi Arabia's Ministry of Foreign Affairs issued a statement today in response to what has been recently published by the British 'Financial Times' newspaper, claiming that the Kingdom of Saudi Arabia made contacts with members of the Bahraini AlWefaq Opposition Society, an official source at the Ministry of Foreign Affairs stated that the Financial Times newspaper's article about such contacts is altogether untrue and baseless and that the Kingdom of Saudi Arabia does not interfere, in any way, in other nations affairs and that is a basic and constant principle of its foreign policy." --SPA
I must admit that the whole Laissez-faire (Literally, French for "Let do") has always been something I am torn about. I definitely believe that it needs to based on situation-by-situation/ country-by-country. Part of me wants to believe that countries should "fight their own battles", while the other part of me realizes that the environment is near impossible in a free economy. Fundamentally in theory, it seems to make perfect sense to stay out of other countries' internal affairs. But at the same time, in this day in age, is it even possible?
It is one thing to declare that a country doesn't interfere, I believe a country such as the Kingdom of Saudi Arabia has too much leverage (particularly financial leverage) to absolutely not have some kind of influence on many, many countries' internal affairs. But again, just my personal opinion.


All of Saudi's new Economic Cities are being built with strong environmental specifications. One of the key ideas around building these cities is to create private sector opportunities (via jobs, new businesses, new ways of living as well as private investment opportunities.

King Abdullah Economic City (KAEC) is divided into six main components:

the industrial zone (including mfg., R&D, business services, hospitality, etc.)

the seaport, which will be the largest in the region

the residential area for 500,000 people

the sea resort, expected to be a major tourist destination

the educational zone (including several universities with R&D facilities)

the central business district
KAEC is the only one of the new cities that does not center around a specific industry. It is in an ideal for diverse commerce because of its location on the coast of the Red Sea.
In Hail, you will find
Prince Abdul Aziz Bin Mousaed Economic City
. The goal& planning is is to have a population of over 80,000 people. The intent is to be the hub of transportation routes in the Middle East through:
transportation,
logistics,

petrochemicals,

agribusiness,

minerals and construction materials.

Near the holy mosque of the Prophet, in Medinah is the Knowledge Economic City. Interesting, particularly given its proximity to the holy mosque, this city is planned around Islamic themes, Islamic civilization studies and eventually a theme-park based around the Prophet and Islam. Medinah will also have science, health & medical, technical and other colleges. This Economic City should have a population of around 200,000. (With that kind of population & the tourist and holy attractions, hotels and retail are also being planned.)

On the Red Seat in the southwestern part of the kingdom will be the largest of the new Economic cities, Jazan. Jazan's industry will be the more labor-centric, focusing on things like energy, agriculture, commercial fishing (both packaging and distribution). And of course, in Jazan, given their location on the Red Sea, there will include (my favorite), water desalination plants and power distribution centers. 
These are all very aggressive initiatives. It takes significant and long-term commitment to growth (both through population and economic) and innovation by both the government and the private sector. These initiatives could not happen in a country that did not have serious money to invest in the infrastructure and development of these cities. We need to applaud the progress in the Kingdom and hopefully when we come out of the economic toilet in the US & Europe, we too will be able to take-on such aggressive projects to also see cities of the future.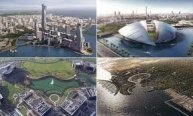 Only could a country as financially stable as Saudi Arabia just start "randomly" building pristine new cities out of nothing. Each of these cities will be predominantly focused on specific industries. While primarily these are publicly funded projects (although the word project just quite have the POW-factor that building a city out of nothing really should have. When I say publicly-funded, I also want to emphasize that these are government-regulated, all under the watchful eye and sponsorship of His Majesty King Abdullah.
With the developing of these new cities, it is commonly thought that "if you build it, they will come" to encourage the private sector to both invest and start to do business in them as well. I recently read (and cannot remember where, so I apologize for not giving credit where credit is due) that these are some of the most favored investment destinations from a global investment standpoint.
This is particularly interesting as the major part of the global economy is still in the toilet, despite what politicians say. The private investment has been slow given the toilet status, but nonetheless, the development in still moving forward. My bullish suggestion - foreign companies, keep investing! My other suggestion - Saudi officials, get out there and attract foreign investment! (Making it a bit easier for Western companies to come do business & protect their investments would also be helpful... I am just saying!)
Management of the development is via the Economic Cities Authority. They will be there to help with regulation (and we hope in a positive way) not develop the the new cities. Each will have a different private developer.
One of the greatest traits about these new economic cities is that they are to help the Kingdom decrease their dependency on oil & gas. By using world-class technology, married with strong management skills and corporate governance these new economic cities should attract new industries to help Saudi move forward rather than backwards as a global player.

The new Economic Cities consist of: 
King Abdullah Economic City (KAEC) in Rabigh
Prince Abdul Aziz Bin Mousaed Economic City (PABMEC) in Hael
Knowledge Economic City (KEC) in Medinah
Jazan Economic City (JEC) in Jazan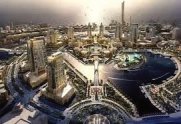 In my next blog, I will focus on what are the specialties of each of these new cities. It is cool!
While much of my excitement has centered around Water Desalination in Saudi Arabia in particular, I must admit, I am now equally excited about Solar Power in the Kingdom.
When you think about it, besides sand, salt water & oil, what other natural resources exists in abundance in both Saudi Arabia and the Middle Eastern region...SUNSHINE!
As we move into "Next Generation Saudi Arabia" (maybe it could be KSA 2.0??), the focus really needs to turn away from oil. This won't be easy to do as it has been what defined who they were as a global economic force. But to be KSA 2.0, it is going to take a total shift in thinking, in branding and in acknowledging who they will be as a powerhouse going forward. It won't be oil that defines who they are much longer.

In 2011, over 50% of electricity was produced by burning oil (not particularly a good use of the scare resource!!).
Ka-care
  is the Saudi agency in charge of developing the nations renewable energy sector. They announced in May 2012 that the nation would install 41 gigawatts of solar capacity by 2032. It is projected to be composed of 25 gigawatts of solar thermal, and 16 gigawatts of photovoltaics. At the time of this announcement, Saudi Arabia had only 0.003 gigawatts of installed solar energy capacity.
So given the Kingdom's commitment to solar power & the incredible innovation that has been going on across the globe (particularly in Texas, if I may so say myself!). Let's find a way to bring these two entities together to make a difference in energy production going forward! If you think about our resources, water - limited, oil - limited, metals - limited (you get what I mean without getting too much into Biotic & Abiotic definitions & meanings)... but what we have in abundance and in unlimited quantities - SUNSHINE. (I would also classify wind-power here but I am still not convinced that wind power is much of an option. This is completely my own personal opinion, but wind power is very expensive to produce and at this moment in time, the companies with the most money to invest in wind power are the oil & gas companies and for them to keep investing heavily in wind power, it will require oil costs still being high. Again, just my personal opinion...)
Since so much of MENA Development Partners' focus is on the Saudi construction industry, I found this article in this week's edition of
ConstructionWeekOnline.com.
Saudi Arabia's most important construction companies. Compiled by Construction Week and Venture Middle East.
Who are the key companies behind one of the biggest national redevelopment programmes in the world?
The Big 25 List shows the companies that are constructing the new kingdom, from roads and railways to the hundreds of thousands of new homes and complete industrial and medical cities.
The list is dominated by family-run firms like the Saudi Binladin Group and Saudi Oger, both of which have held their place for decades and still secure the largest projects.
However, the last few years have also seen a proliferation of fast-growing local firms along with joint ventures between KSA contractors and international companies.
With the Kingdom of Saudi Arabia only faltering slightly during the economic crisis and in the wake of heady government investment across sectors the market is in many ways more fiercely contested than ever.
The 25 contractors listed below are ranked in order of founding year in the field of contracting in the Kingdom.
Saudi's Big 25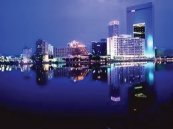 I feel like I need to add a bit of explanation why so much of the section on the "Business News in the Middle East" in the Kingdom of Saudi Arabia.
Without sounding too simplistic, because there is so much more in business news coming out of Saudi than other countries in the region these days.
There are always times when one country's economic boom is much sexier and interesting than another's. And this happens to currently be the case in the Kingdom. (While they probably would not like to refer to their boom as sexy, it certainly is much more compelling.) "
Saudi Arabian Monetary Agency's policy is likely to mirror that of the US; consequently, we do not foresee any changes before 2014," the National Commercial Bank (NCB) said in its report yesterday.

Arab News also commented "The robust economy facilitated the possibility of maintaining an elevated level of credit expansions as investments increase within the Kingdom. Local banks are expected to maintain the current level of credit with a more selective approach for 2013."
So I believe it is Sutton's Law that simply states "Go where the money is... and go there often." Although this saying may be an urban myth, I ask you, need I say more?
/