Shopping Cart
Your Cart is Empty
There was an error with PayPal
Click here to try again
Thank you for your business!
You should be receiving an order confirmation from Paypal shortly.
Exit Shopping Cart
MENA Development Partners LLC
Developing successful business relationships in the Middle East.
**NEW - Collaborative research project on fracking.**
Doing Business in the Middle East
With such a lucrative environment in the Middle East, it is a great time to go for it if you and your company feel you have something to offer in the rapidly expanding Gulf economic region. Be ambitious, think big and be ready for a roller coaster ride! These are a few things I have learned from my own experience as I have started doing business in the Middle East.

In general, the "ease of doing business'", even though it may be very publicly boasted about, it is by no means like doing business in other parts of the world, particularly in the US and Western Europe. Recent government reforms have tried to greatly reduced much of the bureaucratic red tape, however doing business in Gulf nations is all about having a solid business plan, finding those partners who really are influential (and many make claims to be such, so be very cautious when you chose any and all partners) and I cannot say this loud enough... find it in yourself to have the patience of a saint! 
As I am experiencing first-hand is that closing business deals in the Middle East, as easy as sounds in our minds. is a challenge. As a newcomer in the region, I rely heavily on my experience and guidance of my trusted partners, just as they do mine when it comes to working with Western companies.
There are several things I have found very helpful as I have started doing business in the Middle East. It was an unfamiliar environment for me from not only a business aspect but also a cultural, ethical and religious. On that note, if you think that religion doesn't play a part of the business environment, think again. Religion is woven in to every single portion of every single transaction and you must be very respectful of this. From the times of day for prayer, to contracts to discussions, religion is omnipresent. LEARN ABOUT IT, it will serve you well.
Learn whatever you can about companies in the country you are trying to do work in. Because some of the large companies are actually owned by by the country (ie, Saudi Aramco), doing business with a nationalized company has very different expectations and guidelines. Be respectful of the companies' heritage and relationships. These are usually very, very big companies. (How does $10 trillion compare to even the biggest Western companies... ExxonMobil is under $500 billion. BIG DIFFERENCE!!)
At the same time as you are learning about the companies in the Middle East, realize that they probably have no clue who you are or your company. They know well recognized global brands like Coca-Cola, so unless you represent one of those, there is a very good chance they have no idea what you do. Show them, they like to see what you offer. They like to see impressive pictures, impressive numbers and show them that you can really do something amazing for them and you bring something to the table. Another note from my personal experience - DON'T RELY ON WEBSITES OR TECHNOLOGY BASED PRESENTATIONS TO TELL YOUR STORY. To simply point them to a website and or an on-line shareholder report will do nothing to help your cause. Not that those websites aren't important, they will be checking them out, so make sure they are very impressive, but don't present them as your only source of company collateral.
Last but not least the biggest thing I have learned from my experience in starting business dealings in the Middle East, find the best attorney who is familiar with Middle East you possibly afford. It will end-up saving you a lot of money and a lot of turmoil down the road. My Chief Legal Consultant has become my right and often left hand. You cannot even imagine the trouble I would have gotten myself into almost every single day if it wasn't for her. There are many, many laws and regulations that most people know nothing about when it comes to doing business in the Middle East. These laws have serious implications and go against some of the business expectations of the Middle Eastern companies. So inform yourself and don't try to do it alone.
For people who are doing business in the Middle East for the first time are usually unfamiliar with the business, cultural, religion and legal environment. These are just a few of the things I have learned from my experience. There are many more so research, research, research. The people you surround yourself with will help you make it or break it. From your local partners on the ground to the your legal team, chose them wisely! It is an exciting time to be part of such ambitious opportunities so do it right and enjoy the ride.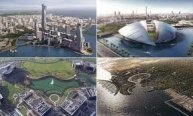 Only could a country as financially stable as Saudi Arabia just start "randomly" building pristine new cities out of nothing. Each of these cities will be predominantly focused on specific industries. While primarily these are publicly funded projects (although the word project just quite have the POW-factor that building a city out of nothing really should have. When I say publicly-funded, I also want to emphasize that these are government-regulated, all under the watchful eye and sponsorship of His Majesty King Abdullah.
With the developing of these new cities, it is commonly thought that "if you build it, they will come" to encourage the private sector to both invest and start to do business in them as well. I recently read (and cannot remember where, so I apologize for not giving credit where credit is due) that these are some of the most favored investment destinations from a global investment standpoint.
This is particularly interesting as the major part of the global economy is still in the toilet, despite what politicians say. The private investment has been slow given the toilet status, but nonetheless, the development in still moving forward. My bullish suggestion - foreign companies, keep investing! My other suggestion - Saudi officials, get out there and attract foreign investment! (Making it a bit easier for Western companies to come do business & protect their investments would also be helpful... I am just saying!)
Management of the development is via the Economic Cities Authority. They will be there to help with regulation (and we hope in a positive way) not develop the the new cities. Each will have a different private developer.
One of the greatest traits about these new economic cities is that they are to help the Kingdom decrease their dependency on oil & gas. By using world-class technology, married with strong management skills and corporate governance these new economic cities should attract new industries to help Saudi move forward rather than backwards as a global player.

The new Economic Cities consist of: 
King Abdullah Economic City (KAEC) in Rabigh
Prince Abdul Aziz Bin Mousaed Economic City (PABMEC) in Hael
Knowledge Economic City (KEC) in Medinah
Jazan Economic City (JEC) in Jazan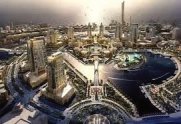 In my next blog, I will focus on what are the specialties of each of these new cities. It is cool!
/