Shopping Cart
Your Cart is Empty
There was an error with PayPal
Click here to try again
Thank you for your business!
You should be receiving an order confirmation from Paypal shortly.
Exit Shopping Cart
MENA Development Partners LLC
Developing successful business relationships in the Middle East.
**NEW - Collaborative research project on fracking.**
Doing Business in the Middle East

All of Saudi's new Economic Cities are being built with strong environmental specifications. One of the key ideas around building these cities is to create private sector opportunities (via jobs, new businesses, new ways of living as well as private investment opportunities.

King Abdullah Economic City (KAEC) is divided into six main components:

the industrial zone (including mfg., R&D, business services, hospitality, etc.)

the seaport, which will be the largest in the region

the residential area for 500,000 people

the sea resort, expected to be a major tourist destination

the educational zone (including several universities with R&D facilities)

the central business district
KAEC is the only one of the new cities that does not center around a specific industry. It is in an ideal for diverse commerce because of its location on the coast of the Red Sea.
In Hail, you will find
Prince Abdul Aziz Bin Mousaed Economic City
. The goal& planning is is to have a population of over 80,000 people. The intent is to be the hub of transportation routes in the Middle East through:
transportation,
logistics,

petrochemicals,

agribusiness,

minerals and construction materials.

Near the holy mosque of the Prophet, in Medinah is the Knowledge Economic City. Interesting, particularly given its proximity to the holy mosque, this city is planned around Islamic themes, Islamic civilization studies and eventually a theme-park based around the Prophet and Islam. Medinah will also have science, health & medical, technical and other colleges. This Economic City should have a population of around 200,000. (With that kind of population & the tourist and holy attractions, hotels and retail are also being planned.)

On the Red Seat in the southwestern part of the kingdom will be the largest of the new Economic cities, Jazan. Jazan's industry will be the more labor-centric, focusing on things like energy, agriculture, commercial fishing (both packaging and distribution). And of course, in Jazan, given their location on the Red Sea, there will include (my favorite), water desalination plants and power distribution centers. 
These are all very aggressive initiatives. It takes significant and long-term commitment to growth (both through population and economic) and innovation by both the government and the private sector. These initiatives could not happen in a country that did not have serious money to invest in the infrastructure and development of these cities. We need to applaud the progress in the Kingdom and hopefully when we come out of the economic toilet in the US & Europe, we too will be able to take-on such aggressive projects to also see cities of the future.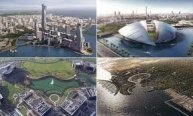 Only could a country as financially stable as Saudi Arabia just start "randomly" building pristine new cities out of nothing. Each of these cities will be predominantly focused on specific industries. While primarily these are publicly funded projects (although the word project just quite have the POW-factor that building a city out of nothing really should have. When I say publicly-funded, I also want to emphasize that these are government-regulated, all under the watchful eye and sponsorship of His Majesty King Abdullah.
With the developing of these new cities, it is commonly thought that "if you build it, they will come" to encourage the private sector to both invest and start to do business in them as well. I recently read (and cannot remember where, so I apologize for not giving credit where credit is due) that these are some of the most favored investment destinations from a global investment standpoint.
This is particularly interesting as the major part of the global economy is still in the toilet, despite what politicians say. The private investment has been slow given the toilet status, but nonetheless, the development in still moving forward. My bullish suggestion - foreign companies, keep investing! My other suggestion - Saudi officials, get out there and attract foreign investment! (Making it a bit easier for Western companies to come do business & protect their investments would also be helpful... I am just saying!)
Management of the development is via the Economic Cities Authority. They will be there to help with regulation (and we hope in a positive way) not develop the the new cities. Each will have a different private developer.
One of the greatest traits about these new economic cities is that they are to help the Kingdom decrease their dependency on oil & gas. By using world-class technology, married with strong management skills and corporate governance these new economic cities should attract new industries to help Saudi move forward rather than backwards as a global player.

The new Economic Cities consist of: 
King Abdullah Economic City (KAEC) in Rabigh
Prince Abdul Aziz Bin Mousaed Economic City (PABMEC) in Hael
Knowledge Economic City (KEC) in Medinah
Jazan Economic City (JEC) in Jazan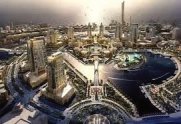 In my next blog, I will focus on what are the specialties of each of these new cities. It is cool!
/