Shopping Cart
Your Cart is Empty
There was an error with PayPal
Click here to try again
Thank you for your business!
You should be receiving an order confirmation from Paypal shortly.
Exit Shopping Cart
MENA Development Partners LLC
Developing successful business relationships in the Middle East.
**NEW - Collaborative research project on fracking.**
Doing Business in the Middle East
| | |
| --- | --- |
| Posted on April 30, 2013 at 5:42 PM | |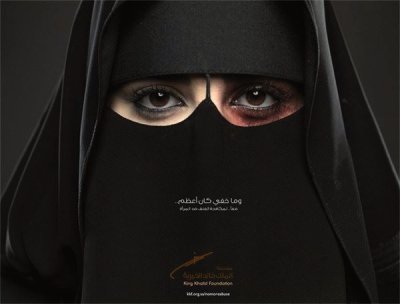 Photo: King Khalid Foundation
The caption reads: "Some things can't be covered; Fighting women's abuse together."
While I try to keep most of my blog about business issues, occasionally there is something that is so significant that it deserves a few words. Way to go Saudi Arabia! Today the King Khalid Foundation launched a very provocative and very powerful campaign against domestic violence. This is such step forward for the Kingdom. Now does this mean domestic violence will end, no. But at least it acknowledges that it does exist.
However, protecting women and children goes way beyond just starting a campaign. Making sure the issue is really addressed now becomes two-fold. 1.) That the government does set-up the proper channels to make sure that they do help and protect those who are abused. (But please take note, in America and other Western countries, it is commonly claimed & believed that we are stellar in doing this... but believe me, there is nothing stellar about our own systems!!!) and 2.) That women need to SPEAK UP! This will be a huge issue as it goes against the cultural grain of their society as a whole. Many believe that what has been done will be done, so if the cycle is to stop, it is going to mean a lot of change within a culture that has not historically supported women to talk against their husbands or fathers.
We will see how things change and if indeed this is a great step forward for the Saudi women. It is a rocky road ahead of them, but if the change is embraced by the government, Royal family and by the citizens of the Kingdom themselves, it will not be a step forward, it will be a giant leap...Insha'Allah!
Categories: UN Women, violence against women, women in businss, women in the middle east, women's rights
/